You are going to
watch a clip of the film "Shaun of the Dead"

listen to the passive used in a news

broadcast

do some comprehension activities
Shaun of the Dead
(2004) directed and co-written by Edgar Wright, co-written and starring Simon Pegg and Nick Frost.
http://en.wikipedia.org/wiki/Shaun_of_the_Dead
The DVD is available on amazon
here
Do you like comedy films?
Do you like horror films?
Watch the Trailer. What kind of film is Shaun of the Dead?
Shaun of the Dead
Shaun is a salesman whose life has no direction. He has a Mum, a stepfather (Phillip), and he shares his house with a housemate, Pete. Ed, Shaun's best friend, lives on their sofa. Shaun's girlfriend, Liz, has broken up with him so Shaun goes for a drink with Ed at the Winchester pub...
3) Before you watch
Vocabulary - Check you know the meanings of these words and expressions
to confront
to be mugged
crackheads
sketchy
to flee
standstill
assailants
be "a bit under the weather"
to grab
wait for something to "blow over"
4) Watch the film
The film cannot be embedded here from YouTube
so click here to watch it on YouTube. Watch 00:21.00 - 00:37.40
or watch this clip here for exercises A,B and C
Ex D can be seen here
If you have the DVD watch from
00:21.00 - 00:37.40
Then
do exercises A, B, C and D
A) True or False?
Watch 00:20:55 - 00:26:45 and do the true of false exercise below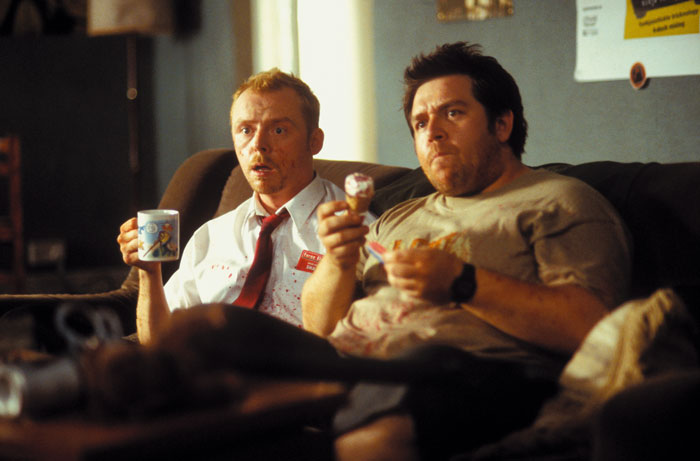 B) The News.
Look at the exercise and watch 00:26:45 - 00: 34:35 and fill in the gaps with the correct passive
C) Mum's phone call
Watch 00: 34:35 - 00:35:27 and listen to the phone call. Match Shaun's questions with his mum's answers
D) The Plan
What's the final plan?
Watch 00:35:27 - 00:37:13 and fill in the space with a verb
Printable worksheet
here
Shaun of the Dead
fan site
http://www.shaunofthedead.com/
Passives
http://www.tolearnenglish.com/exercises/exercise-english-2/exercise-english-28628.php
http://a4esl.org/q/f/x/xz89mgu.htm